TO PURCHASE THESE BOOKS:
Signed copies are available from the author by mailing $12 for each to P.R. Christie at 7 Balsa Court, Santa Fe, NM 87508.
Also available at Collected Works Bookstore in Santa Fe, NM
Multiple copies for individuals or bookstores will receive a discount. Shipping is free. Email me at wilddogbooks@cnsp if you'd like to make arrangements that way.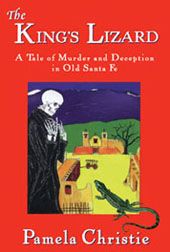 It's 1782 in New Mexico and slavers are operating ruthlessly throughout the colony. Apaches and Comanches fight the Spanish militias to protect their homelands. Governor Anza, at his wits' end in Santa Fe, engages the help of a young man, half Ute, half Spanish, to join his network of spies. Nando, naïve, but willing and wily, works to overcome the ignominy of being a half-breed and uncovers the traitor at the core of New Mexico's troubles. Along the way Nando falls in love with a young widow who joins him as he brings down one of the region's more brutal slavers.
This mystery and roiling family saga is set near the end of two hundred years of Spanish rule in the southwest. Fast paced and true to the realities of the times, The King's Lizard returns the reader to Santa Fe in the past, to witness the fierce and demanding life of two hundred years ago.
Now available as an e-book at Book baby-book store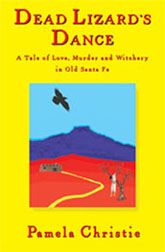 Nando, unlikely spy that he is, returns. Three deaths near the village of Santa Fe are seemingly unrelated, except they are so gruesome they just could be the work of witches. The town is erupting in fear right as the Spanish king's inquisitors arrive to investigate the governor of New Mexico. The caravan to Mexico, lifeline for the colony, cannot leave because the caravan master is murdered on the morning of departure.
Governor Anza begs Nando to return to work for him; all very well except one of the women he is supposed to hunt down may be his own girl friend. Desperation mounts as Nando is captured by the witch women and left to die in a remote mountain cave.
Now available as an e-book at Book baby-bookstore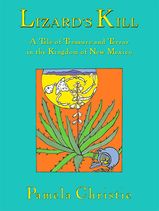 Late in 1788- Spain still rules a considerable part of the world including the southwestern deserts of North America, but long ago the treasure ships from Mexico and Peru ceased to deposit vast heaps of silver into Spain's treasury. New Mexico, a land rumored to be rife with mineral wealth, remains tantalizingly untapped. Rumors persist of nuggets of gold in arroyos and even of emeralds, but no one has found the valuable lodes.
In Lizard's Kill, hope is renewed when an ancient, primitive map is discovered. Everyone wants it, from the King of Spain down to household servants and everyday thieves. But Nando, half-breed sheep rancher and former secret functionary in Governor Anza's government, is the man who has the coveted map sewn into the crown of his shabby hat. His flight out of Sonora to reach the protection of New Mexico becomes a murderous struggle for survival. The outcome, on which Spain's power depends, is desperately unknown.     (No ebook, yet)